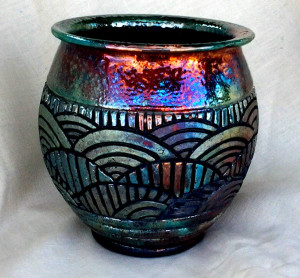 Coming in 2017, Chessima Cats and Critters! MORE>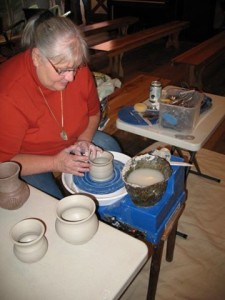 Art has always been a large part of Suzi's life. As a child her mother spent several years as an art teacher for the Massillon City Schools. She practiced her lessons with Suzi. On vacations while her brothers toured forts and military museums, Suzi and her mother toured art museums and galleries. She has tried her hand at many forms of art, but it wasn't until later in life she fell in love with the ceramic arts.
Her first lessons were at the Canton Museum of Art where she took lessons from Bill Shearrow, a noted ceramic artist in the Canton area. She continued her studies with Deb Ferree, Sam Hoffman, Jack Valentine, Mary Boberski and others. In April 2014 and again in June 2015, she completed 2-day workshops in Milheim, PA, with Simon Leach.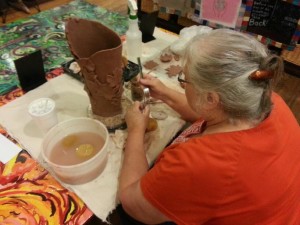 For over 2 decades she has been involved in the ceramic arts and now has a studio in her home in Massillon, where she and her husband, Dr. Gawaine Banks, live.
Suzi's art is diverse. She has for years disliked being funneled into one way of doing things, and experiments with different techniques, designs and ideas ... which makes each of her pieces unique and unusual. She works in white, brown and red stoneware, and sometimes even porcelain. The firing techniques are electric cone 6 and occasionally low fire for contrast, Raku, pit and other methods.

Decorating her pieces is often as varied as her techniques. She uses the wheel, slabs and hand-building and adds decorations by adding on flowers, leaves, branches and other embellishments, or carving the leather hard clay for textural design.
During her demos, Suzi brings along a portable wheel to show throwing techniques, or already thrown pieces that she embellishes by carving or adding on of designs. She can be seen the second Saturday of each month at Wendell August Forge in Berlin, Ohio.
Occasionally you will see crocheted items or jewelry with the Suzi signature, as she also dabbles in other creative endeavors. If she is not working on her art, she is creating Web designs from her home office for approximately 35 clients, running real estate reports for a Cleveland Realtor, working as accounting manager for Atlas Packaging, or spending time with her 3 adult children and 6 delightful grand kids!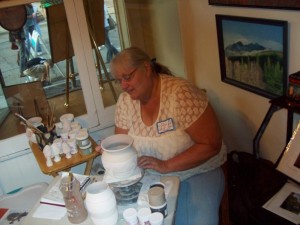 Oftentimes in the summer when the weather is nice and time allows, Suzi takes her portable Shimpo Aspire wheel outside in the back yard of her home and spends the day under a tree throwing. She says it helps her mood and heightens her creativity. Unfortunately, there is more good weather than time to throw.
Suzi's art can be found at Wendell August Forge on Rt. 62 in Berlin, Ohio; Journey in Time in Orrville, OH, Canal Fulton Glassworks in Canal Fulton; Carroll County Center for the Arts in Carrollton; The Troll Hole and Art Emporium in Alliance.
See an article in the Beacon Journal entitled, "Raku process is art with a wow factor," by Mary Beth Breckenridge featuring Jack Valentine and me working on Raku pieces. http://www.ohio.com/lifestyle/breckenridge/mary-beth-breckenridge-raku-process-is-art-with-a-wow-factor-1.524116.